We hope you'll join us for the ESAP Pre-Conference on November 8th! Registration information coming soon!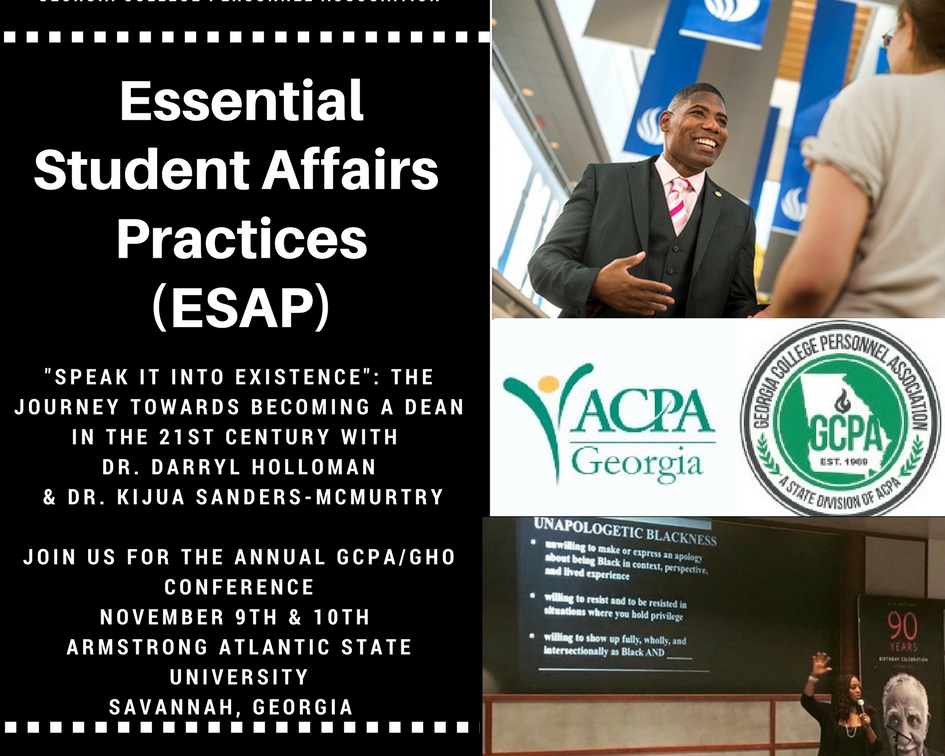 Dr. Darryl Holloman
Darryl B. Holloman serves as Associate Vice President for Student Affair and Dean of Students at Georgia State University. Dr. Holloman holds the following degrees from Georgia State University: Doctorate of Philosophy in Educational Policy Studies (Ph.D.), Masters of Public Administration (MPA), and Bachelor in Arts, with a concentration in Creative Writing. He has served in the role of the Assistant Vice President for Life and an Assistant Professor at Columbus State University in Columbus, Georgia. He has worked at The Rutgers University of New Jersey-Newark campus and served as a full-time faculty member at the University of Arkansas-Little Rock. Dr. Holloman has experiences in the following areas: Greek life, Judicial Affairs, Orientation, Diversity Affairs, Disability Services, Campus Recreation, Student Union and Facility management, Career Services, Student programming, Residence Life and Housing, Volunteer Services, Dining Services, Student Leadership programs, Academic Advising and Faculty Program Coordinator for Student Affairs, student conduct and crisis management.
He has presented over 70 research papers at conferences of the Association for the Study of Higher Education (ASHE), the American Educational Research Association (AERA) Division F and J, the Association of College Unions International (ACUI), and the National Academic Advising Association (NACADA), College Student Educators International (ACPA) and Coalition of Urban and Metropolitan Universities (CUMU). Dr. Holloman has several articles and book chapters to his credit. Dr. Holloman's research agenda examines how cultural identities and cultural distinctions shape college experiences. His most recent book through Peter Lang Press is entitled From Boyhood to Manhood: Deconstructing Black Masculinity through a Life Span Continuum.
Dr. Holloman and his spouse of 24 years live with their two children (Delbert and Delvin) in the Greater Atlanta Metropolitan.
Dr. Kijua Sanders-McMurtry
Kijua Sanders-McMurtry is the Associate Vice President and Dean for Community Diversity at Agnes Scott College. In this role, she serves as the college's Chief Diversity Officer reporting directly to the President and serving as a member of the Executive Cabinet. She has worked at Agnes Scott College for eleven years where she has previously served as the Interim Vice President for Student Life and Dean of Students, the Associate Dean of Students and the Title IX Coordinator. She has supervised a number of departments and served in critical leadership roles as an administrator throughout her professional career. Prior to Agnes Scott, she was a Senior Research Associate with ORC Macro (a private public health research firm) working on qualitative and quantitative research projects. She also previously worked at Georgia State University for fourteen years as an administrator in financial aid, the honors program, student leadership development and as an adjunct faculty member teaching courses related to African American Studies, Critical Pedagogy and Multicultural Education.
Dr. Sanders-McMurtry completed her Associate's degree in Social Sciences at Pasadena City College, her B.A. and M.A. in Sociology, a Graduate Certificate in Women's Studies and her Ph.D. in Educational Policy Studies with a concentration in Higher Education at Georgia State University. Her research has been published in the Journal of Higher Education and she has presented nationally at a wide range of conferences and institutions. She has served with the National Association of Student Personnel Administrators (NASPA) as the Co-Chair for Trans Inclusion and a member of the Gay, Lesbian, Bisexual and Transgender Knowledge Community. She is a past President of the Georgia College Personnel Association and currently serves as the Professional Development Chair for this organization. As a nationally recognized advocate for diversity and inclusion, she has been quoted in key higher education publications including the Chronicle of Higher Education, Inside Higher Education, and Insight into Diversity magazine.